Annapolis Maritime Museum & Park Opens Merrill Family Pavilion
The Annapolis Maritime Museum & Park (AMM) recently celebrated the grand opening of the Merrill Family Pavilion, a new addition to their campus. The pavilion, spanning 2,600 square feet, is designed to support educational, recreational, and cultural programs for people of all ages and abilities. It serves as an outdoor classroom for school field experiences and expands AMM's school and public programming capacity. The Merrill Foundation provided the lead gift for the pavilion, emphasizing their commitment to community engagement.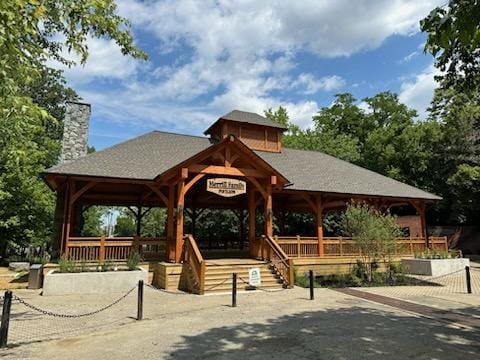 The pavilion adjacent to AMM's Education Center building will enhance the educational offerings and extend the meeting and event season into the fall and early spring. By hosting rentals and ticketed events, AMM aims to generate revenue to support its education programs, many of which are free to the community and county school system. The pavilion's unique design features, such as a custom stone fireplace and distinctive cupola, create an inviting ambiance along the water's edge.
AMM has further plans for the park, including constructing a raised boardwalk and a public deep-water dock. The path, spanning 400 feet and designed to be ADA-accessible, will provide public water access while preserving the creek's ecosystem. The port, a hybrid structure combining fixed and floating components, will serve as a transient dock with amenities and a protective berth for the museum's historic skipjack, Wilma Lee. These developments aim to enhance the visitor experience and promote environmental conservation.
AMM's expansion into the Ellen O. Moyer Nature Park, a 12-acre urban park with a historic waterworks building, reflects the museum's commitment to growth and community outreach. Completed projects in the park include trail and wetlands restoration and renovations to the waterworks building. AMM's President and CEO, Alice Estrada, thanked the City of Annapolis for their support and emphasized the institution's dedication to maritime and environmental education. The new spaces, including the Merrill Family Pavilion, will enable AMM to create unique events and programs while providing the community with a stunning public space.
Electrical Peace of Mind
Providing professional electricians since 1988 in Maryland, Cook Electric is the company you can rely on for all your electrical service needs. For knowledgeable, fair, honest, reliable, and conscientious service, call Cook Electric today at (410) 266-9040. We will be happy to help you.